Register
Register
Before you start you will need:
Full names and dates of birth for all household members
National insurance numbers for all household members aged 16 and over
An email address
A telephone number
Current address, including postcode
Address history, including dates, over the last 5 years
Homeless reference number (if applicable)
To choose a memorable date and password
A pen and paper to note your login reference.
The information you provide allows us to assess your eligibility, qualification and housing need for you and the other people you include on the housing application. It is important that you give us as much information as possible and answer all the questions that apply to you. Submitting an incomplete or inaccurate application form may delay your application being assessed.
Select

For a full guide on how to register your application for housing, please select this link - Online Application Guide
When you have registered you will be shown a unique reference number which you will need to remember for whenever you log in to your account or contact us.
If you are not already logged in you can do so by clicking on the Login button on the top right of the screen and entering your login reference followed by the memorable date (refer to your re-registration letter) and password.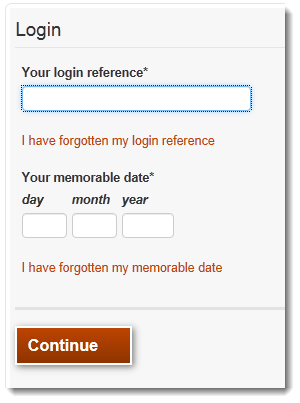 You will now be logged into your My Account screen. Click on the Apply for Social Housing link

When you begin your application you will be asked questions about yourself, your household and your housing circumstances.
Some questions are mandatory and must be answered for your to proceed with your application.Please answer these questions accurately. Help text is available within the form if you need it.
The online form will take 20 to 60 minutes to complete, depending upon the size of your family and your housing need.
If you are asked anything that you are unable to answer straight away or if you need a break; you can always save your progress and return to complete the process later.
Check your answers and on the final page, press

When you have submitted your form you will receive a system message confirming this. You will also receive a copy of your application form by email.
We will contact you by email or telephone if any further information is required.
Please do not contact us during the period of assessment; this will allow us to assess your application more quickly.
Once your application has been assessed, you will be contacted by email with the decision.
You can log in to your on-line account to view the status of your application and we will inform you of the outcome of your application by email.
To view the status of your application, click on My account in the top right of the screen and your application status will be displayed.